A vibrant and lively space at the epicenter for academic and cultural interaction on campus, Lakeside Village transforms into more than just a place to sleep. Unlike a traditional housing facility, the village includes active indoor and outdoor spaces to facilitate engagement among the entire campus community.
The integration of programmatic areas like the 200-seat Auditorium and dynamic 7,100-square-foot Exhibition Center as well as social areas like the Outdoor Recreation Center and Climbing/Bouldering Wall will complete the active environment around Lake Osceola.
Other spaces like the Package and Mail Center and locations for retail and food/beverage establishments will transform the Student Housing Village into a destination in and of itself for all members of the campus community.
---
Sand Volleyball Court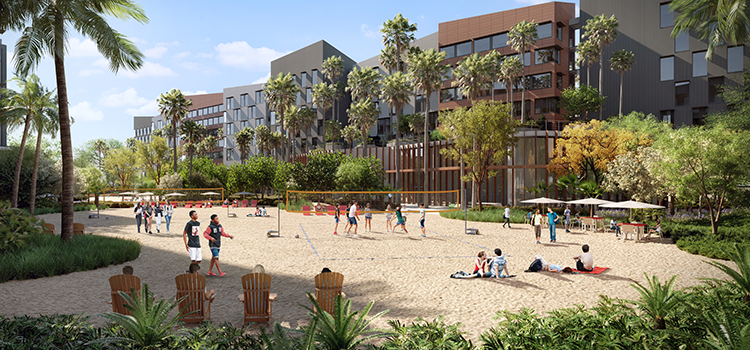 The Sand Volleyball Court and surrounding outdoor lounging space offer a social and recreational outlet at the heart of the Lakeside Village.
---
Outdoor Fitness Circuit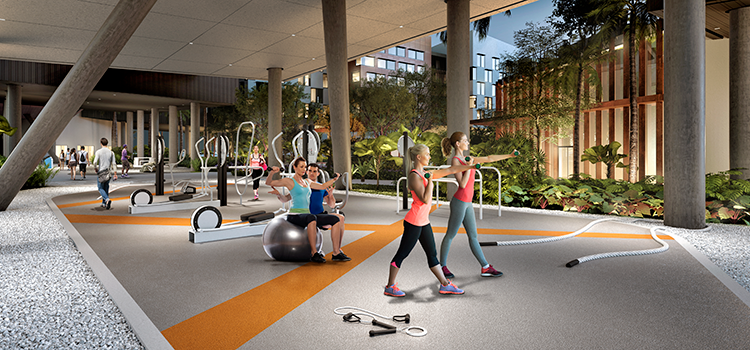 Integrated into the village's covered colonnade, the Outdoor Fitness Circuit is a practical and visual reminder to students about the importance of living a healthy lifestyle.
---
Multi-Use Pavilion
The picturesque 2,600-square-foot Multi-Use Pavilion is large enough to host a variety of events and can also be sub-divided to host more intimate gatherings. The Pavilion's rooftop terrace also serves as an event venue in and of itself.
---
Main Plaza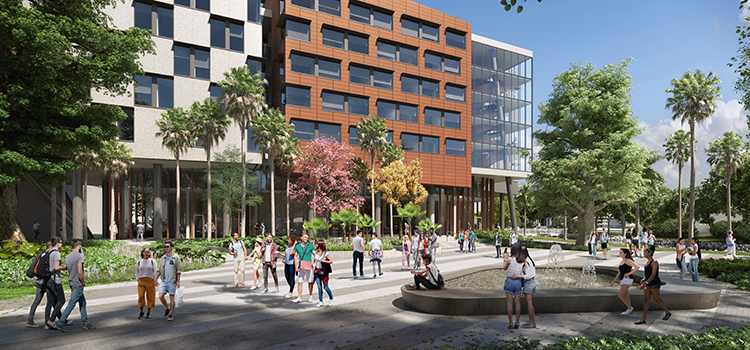 The village's main entrance located along Stanford Drive doubles as an outdoor plaza for students to gather or to host active campus programming.