The University of Miami's Centennial Village, the second phase of a multi-year plan to modernize campus housing, will serve as a hallmark of the Coral Gables campus and support the University's efforts to competitively recruit top academic and athletic talent.
This second phase begins with the complete replacement of Hecht Residential College followed by Stanford Residential College. In addition, the Hecht-Stanford Dining Hall will be replaced with a new facility integrated into the village.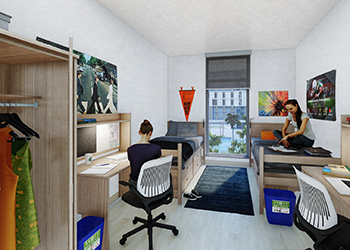 Made up of five residential colleges, Centennial Village will continue the successful First-Year Experience program with live-in faculty as well as professional and student staff who support and enhance the first-year experience. In addition to double rooms and an increased offering of single rooms, the new residential colleges will feature centrally-located private bathrooms, shared resident lounges, as well as classrooms and other instructional space.
Additionally, Centennial Village will be positioned to take advantage of the many outdoor and programmatic elements of the Coral Gables campus surrounding Lake Osceola. 
Please send any questions or comments to newstudenthousing@miami.edu. Please direct all media inquiries to the Office of Media Relations. 
Project Timeline
May 2022: Hecht Residential College closes 
May 2024: Stanford Residential College and Hecht-Stanford Dining Hall close 
August 2024: Residential colleges 1 and 2 open (including new dining hall) 
August 2026: Residential colleges 3, 4, and 5 open 
Estimated Cost
$335 million
Program Data
Total Number of Beds: approximately 2,025
Residential Colleges 1 and 2: 875 
Residential Colleges 3, 4, and 5: 1,150 
Area
Residential Colleges 1 and 2: 310, 000 square feet 
Residential Colleges 3 and 4: 270,000 square feet 
Residential College 5: 95,000 square feet 
Heights
Residential College 1 (North): 10 floors 
Residential College 2 (South): 9 floors 
Residential College 3 (North): 8 floors 
Residential College 4 (South): 10 floors 
Residential College 5: 8 floors  
Common Spaces
Classrooms 
Conference and seminar rooms 
Faculty and staff apartments 
Two multi-purpose great rooms 
Collaborative working space for students and faculty living or teaching in Centennial Village 
Meditation/reflection rooms 
Recreation and gaming lounges 
600-seat dining facility 
Music practice rooms 
Project Team
University Client: Housing and Residential Life; Division of Student Affairs 
Architect: VMDO Architects; Zyscovich Architects 
Project Advisor: Brailsford and Dunlavey 
Project Manager: Facilities Operations and Planning 
Builder: Coastal Construction 
All information above is current as of December 2021